SMEs beware: bankruptcies on the increase
AUSTRALIAN insolvencies and bankruptcies are expected to rise by about eight percent in 2016 and 2017, according to new research by international debt collection group Atradius.
Atradius Australia and New Zealand managing director Mark Hoppe urged Australian businesses to implement strategies "to avoid being another bankruptcy statistic".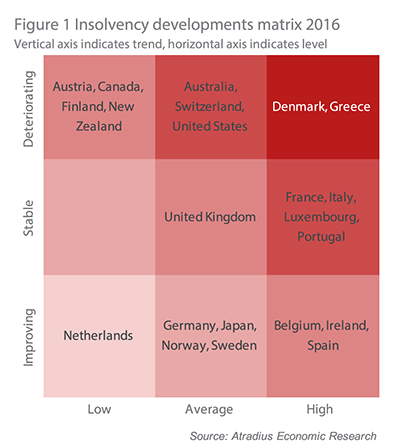 "After a sharp increase in Australian business insolvencies between 2008 and 2009, and a steady, historically-high level between 2010 and 2013, insolvencies decreased by almost 20 percent in 2014," Mr Hoppe said.
He said the commodities slump and the with the challenging situation in China, business insolvencies were estimated to have increased again during 2015 by up to 10 percent.
"This rising insolvency trend appears to be continuing," Mr Hoppe said.
"From January to May this year, there were 3,634 insolvencies according to ASIC data.  It's no surprise that the mining, oil and gas, and construction industries make up the majority of businesses facing increasing insolvency rates.
"The mining sector has been experiencing difficulty for some time thanks to the slowdown in China putting pressure on the insolvency landscape, and the continuing slump in the commodities market."
Between January and May this year, the metals, mining and steel industry saw 167 insolvencies. The construction industry was the hardest hit by insolvencies during the same time period, with 625 insolvencies recorded in Australia.
However, start-ups and small businesses were also feeling the pinch. SMEs with assets under $100, 000 make up 85 percent of collapses in this category.
Insolvencies are being felt across Australia. The Atradius  report showed in Q3 of the 2015-16 financial year (FY15/16), a total of 658 NSW businesses entered into external administration.
This was followed by 594 Victorian businesses, 444 Queensland businesses, 102 in South Australia, and 241 in Western Australia.
Mr Hoppe said these statistics highlighted the need for businesses to actively implement a risk-management plan. This includes thoroughly researching the potential customer and supplier, and the market it operates in, before signing a deal.
"Speaking to an expert is a great way to further understand business risks, and how to protect your products and profit," Mr Hoppe said. "For example, not fully understanding the impact of import duties on the market value of your product in various countries before you invest in exporting can create huge problems.
"Businesses need to recognise that, with the increase in bankruptcies putting pressure on the entire market, they need to protect themselves. With a clear idea of the potential risks, businesses can begin to plan to minimise their exposure."
ends