Macfarlane says energy security worrying industry
Queensland Resources Council (QRC) chief executive Ian Macfarlane has renewed calls for a new High Efficiency and Low Emission (HELE) coal fired power station in North Queensland to combat rising electricity prices.
Speaking at the Gladstone Engineering Alliance Breakfast, Mr Macfarlane said energy security was a serious hurdle for companies to remain competitive in the resources sector.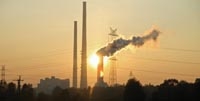 "Gladstone has a strong manufacturing and industrial base with two alumina refineries and affordable and reliable energy is critical in keeping these trade-exposed industries globally competitive," Mr Macfarlane said.
"A recent QRC survey of resources chief executives found the state government's decision to set the 50 percent renewables target by 2030 is a major concern to the sector.
"The survey also found that increases in electricity prices were making it hard to do business in Queensland.
"It needs to be a less ideological argument about where we get our energy from and a more practical discussion about how we provide both reliable and cheaper electricity and reduce greenhouse gas emissions," Mr Macfarlane said.
"Gladstone is home to Queensland's largest coal-fired power plants but more, cleaner baseload supply is needed in the NEM (National Electricity Market) grid, particularly in North Queensland, if we are manage more renewables and to prevent wholesale electricity spikes on days of high east coast demand."
Mr Macfarlane said Gladstone's LNG exports had more than tripled with all three LNG operations online for the first time over the calendar year.
"LNG exports out of Queensland reached a new record at 17.5 million tonnes and were exported to 14 countries across the world despite green activists claiming fossil fuels are in decline," he said.
"This has been an enormous boost to the Queensland economy, providing vital export income and jobs for Queenslanders."
The LNG sector is forecast to continue its record export growth that is being driven by China and Europe. The latest report by the Office of the Chief Economist estimates China's LNG imports to have increased by 28 per cent in 2016 and Europe is forecast to increase by 21 percent a year until 2018.
"As we know from our current economic data, in 2015-16, Queensland's gas industry contributed $12.8 billion to the state's economy and supported more than 65,000 employees," Mr Macfarlane said.