RSL becoming hi-tech veterans
ONE HUNDRED years after being formed by returned and injured soldiers, the Returned and Services League of Australia (RSL) of today is well and truly transitioning into the digital age – and leading the charge is the Queensland arm of the major ex-service organisation, with 38-year-old CEO Luke Traini at the helm.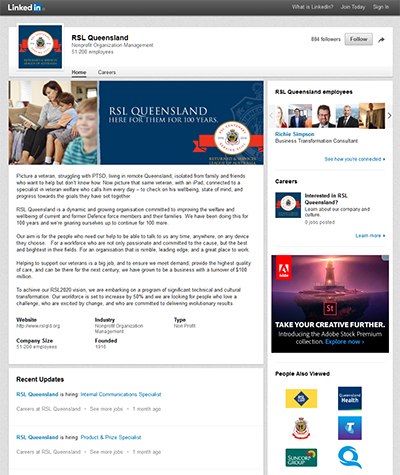 Capitalising on the opportunity to employ new technologies to more deeply engage with modern veterans of all age groups through online, mobile and social media channels, Mr Traini is well underway positioning the RSL as one of the leading providers of welfare, support and assistance and ensuring that the ever-challenging needs of the veteran and Defence community can be met well into the future. 
To support the recruitment of a highly innovative team of Queensland's most talented transformation and technology specialists to drive these changes, one floor of the 1980s era RSL State Branch building has been brought to life with the very best in innovative workplace design, to leverage the benefits of a high-tech work environment.
This new area was created to spur innovation within the RSL, but with a look and feel that is anything but 'typical RSL'.
A wireless, open-plan layout conducive to project team work is combined with break out areas and dedicated quiet work spaces with the latest technology to enable collaboration across business functions and throughout the state, helping to reduce costs.
"It has been great to see teams adopt these more modern concepts and integrate new technologies into their day to ensure we build on our one team approach, regardless of where our people are physically located," Mr Traini said.
The current focus on technology and innovation in the century-old charity has a future purpose: to ensure the most effective facilitation of service delivery is available for the ever-evolving and unique needs of current and future veterans. 
Typical of the way this iconic charity is transforming its technological footprint, Mr Traini encourages contact from organisations wanting to engage with the RSL through LinkedIn:
https://au.linkedin.com/in/luketraini
RSL is a Queensland Leaders Alumni member.
ends