First Global Dialogue on Happiness at World Government Summit
WITH the World Health Organization expecting depression to rank in the top three biggest diseases within the next 15 years, more than 300 global experts, scientists and decision makers met in Dubai on February 12 for the first Global Dialogue on Happiness.
The conference is a global initiative driven by the vision of Vice President and Prime Minister of the UAE, and Ruler of Duba, HH Sheikh Mohammed Bin Rashid Al Maktoum, and intends to create a framework for governments to align their policies with the happiness and well-being of their people.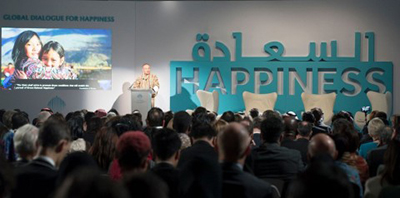 To underscore its commitment to this initiative, the UAE has created an official cabinet-level position focused specifically on happiness.
The Global Dialogue on Happiness was a pre-event to the 2017 World Government Summit, which followed also in Dubai.
UAE Minister of State for Happiness, HE Ohood Bint Khalfan Al Roumi, outlined the sense of urgency and moral imperative of governments to take the well-being of their citizens seriously: "350 million people globally suffer depression and 800,000 people between the ages of 15-29 commit suicide annually."
The UAE is tackling these concerns directly, convening global experts on happiness to build a framework to implement ideas that will potentially affect substantial positive change and build happiness in societies.
According to findings from A 75-Year Study on Human Happiness  by Dr Robert Waldinger, Harvard professor of clinical psychology, "Close relationships were the strongest predictor of what kept people happy throughout their lives."
Helen Clark, administrator of the UNDP spoke about the Human Development Index and reinforced the need to measure happiness to accurately assess and compare progress across countries.
Prime Minister of Bhutan Tshering Tobgay spoke about his country's Gross National Happiness initiative which considers responsibility of individual happiness in the same way it thinks about education, healthcare or any other public good.
"Great philosophers and religious leaders have devoted their lives to teaching people how to be happy," he said. "Why don't governments make happiness a public good rather than relegating it to an individual pursuit?"
The 2017 World Government Summit featured 150 speakers across 114 sessions that highlight the world's most pressing challenges and showcase best practices and cutting-edge solutions to deal with them.
ends