First Blockchain conference in Singapore
BLOCKCON 2017, the first global Blockchain conference to be staged in Singapore, will focus on  blockchain and cryptocurrency related innovation.
Jointly organised by UBM Exhibition Singapore and the Singapore Fintech Consortium, the event is being held at Marina Bay Sands Singapore on March 28 and 29 next year.
Blockchain is another potential global currency which operates as a distributed public network that creates an immutable historical ledger of transaction in an efficient, transparent and secured way.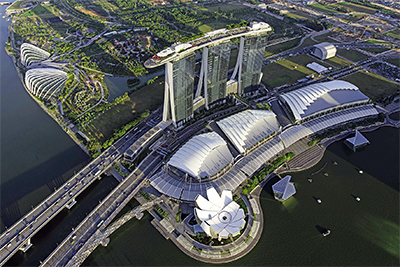 The technology has the potential to revolutionise global finance economy, with its applications ranging from trading and payments, to security and legal ownership. It not only captures the attention of banks, but also exchanges, insurers and governments who are looking into blockchain to reshape daily operations, reduce costs and improve transparency.
The two-day BlockCon 2017 conference is expecting more than 1,000 global Blockchain innovators and professionals of diverse backgrounds -- including regulators, entrepreneurs, investors and financial industry executives.
The engagement topics revolve around blockchain's rising opportunities and challenges, regulation and collaboration, as well as its application in finance and beyond. BlockCon 2017 will also feature a series of interactive panel discussion sessions, fireside chats and live demonstrations that will probe deeper into what it takes for blockchain solutions to be successful, and how this emerging technology can be applied for data integrity, trust and accessibility.
"Blockchain has the potential to redefine numerous value chains, exchange platforms and business processes," Singapore FinTech Consortium co-founder Gerben Visser said.
"We observe fascinating 'proof of concepts' being tested and user cases being developed not only within the financial service industry, but across other major industries and public sectors.
"Some of the key themes, topics and applications that are being explored are related to identity, authentication, fraud, record keeping, 'smart' self-executing contracts and various forms of transfer of digital assets, value and data," Mr Visser said.
UBM Exhibition Singapore managing director Paul Wan said, "We believe BlockCon 2017 will provide a unique knowledge exchange platform, facilitate partnership opportunities across the Blockchain ecosystem, as well as educate financial participants and stakeholders on the potential applications."
BlockCon 2017 has also called for 'ground-breaking' research papers which may be presented at the conference.
http://blockcon.co/call-for-paper/
ends