Australia Post partners with Alibaba to help SMEs export to South-East Asia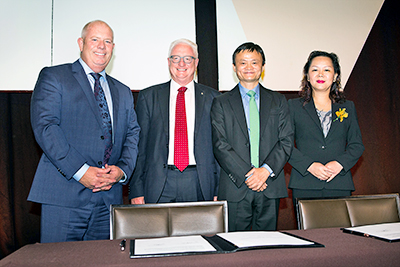 AUSTRALIA POST has negotiated an expanded relationship with the world's biggest online retailer, Alibaba, to help Australian businesses export to potentially millions of consumers across South-East Asia.
The partnership will see Australia Post extend its online storefronts beyond China to Malaysia, Singapore and Indonesia, creating an online platform for Australian businesses to sell products across the region.
The Australia Post-branded storefronts will establish the first Australian marketplace within South-East Asia's leading e-commerce network Lazada, of which Alibaba has a majority shareholding.
Lazada provides merchants with direct access to more than 560 million consumers in six countries and features a wide product offering in categories ranging from consumer electronics and household goods to fashion and health products.
Australia Post executive general manager for parcels and StarTrack CEO, Bob Black said the South-East Asian expansion built on Australia Post's strong relationship with Alibaba.
"We are committed to supporting local Australian businesses and delivering eCommerce solutions that make it easier to grow their businesses whether that be across Australia or overseas," Mr Black said.
"International expansion can be daunting for many businesses, particularly small and medium sized enterprises (SMEs). That's why we are proud to have partnered with Alibaba to help give Australian businesses access to the booming e-commerce sector in China and now the lucrative South-East Asian market."
Mr Black said Australia Post also planned to open storefronts on Lazada's other sites in Vietnam, Thailand and the Philippines beyond this year.
Australia Post's relationship with Alibaba has already enabled Australian businesses to sell their products across Alibaba's key platforms since 2014, including Tmall Global, Global TaoBao and 1688.com.
ends