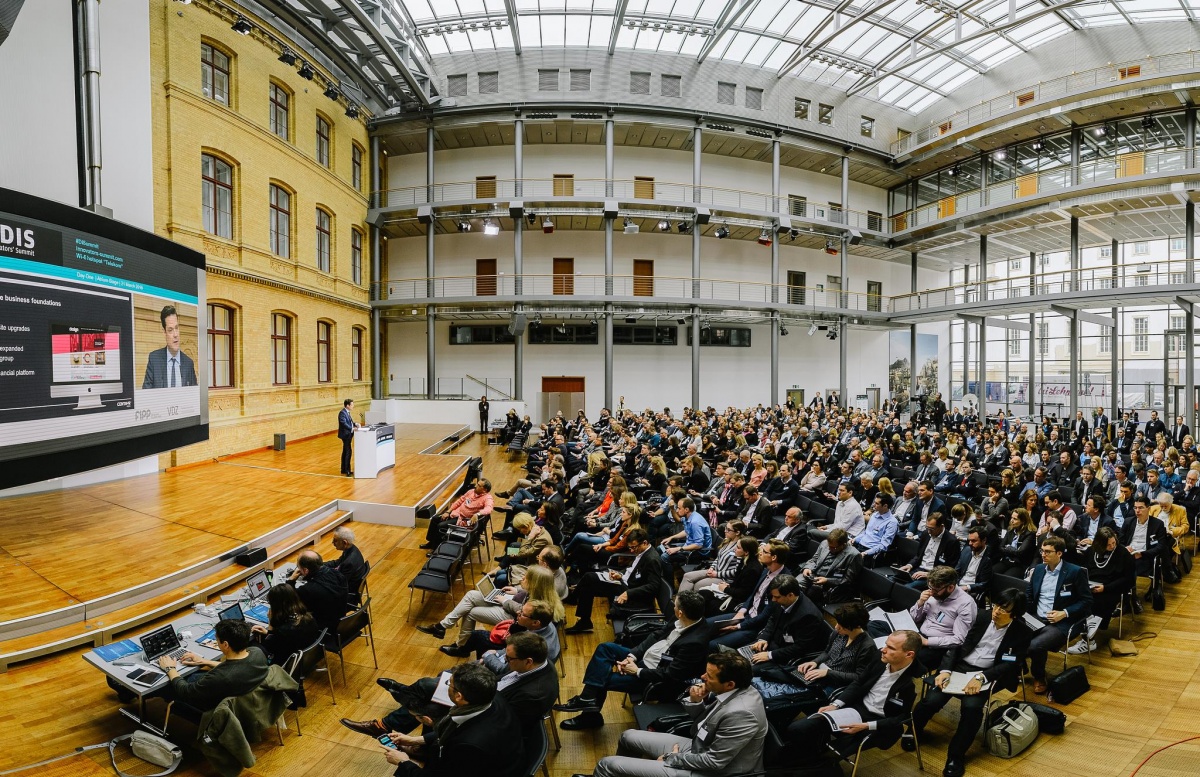 11th Digital Innovators' Summit in Berlin
March 19- 20 2018 Sign up for DIS2018 - Europe's leading media event
Created by FIPP, the network for global media, and VDZ, the association for German publishers Digital Innovators' Summit (DIS) in Berlin is the annual event in Europe for media companies to attend. A premium event now in its 11th year, DIS is the essential platform for quality media to share insights and innovation. Join us in 2018. Don't wait too long to book though! Our discounted pre-agenda offer is available until November 30th.
Why DIS?
The international English language summit not only gives attendees the chance to hear and interact with key media influencers, it also presents an unparalleled opportunity to network with peers both at the conference, and more informally at social events organised by DIS. And what a great city to socialise in! Berlin really has heart beat. A cosmopolitan, innovative, exciting city that boasts an incredibly rich culture and diverse nightlife. It's also home to leading international media companies like Axel Springer and more recently has become one of the most vibrant startup hubs in the world. 600 colleagues from more than 30 countries attend DIS every year. Join them!
Knowledge | Networking | Experiences
In July, the FIPP and VDZ teams met outside Berlin to consider feedback from previous delegates (we do take it to heart!), to develop our thinking for DIS2018 and to make sure we bring you a Summit showcasing cutting-edge thinking, providing experiential opportunities and offering a platform for in-depth networking and social activity. DIS2018 will be spectacular. Join us in Berlin in March 2018! Sign up today to benefit from our discounted pre-agenda offer, ending November 30th.
Organised and hosted by


Run by FIPP and VDZ, the DIS is the essential event for content creators, publishers and service providers in Europe and beyond to meet, talk and do business.
Few industries have been affected by technology quite as much as media and this rapid pace of change looks set to continue into 2018 and beyond. With DIS now established as Europe's leading event for premium media companies, it is the perfect place to learn what's around the corner and the trends that will affect YOUR business.
(If you are interested in joining us in Berlin in March, please get in touch with us before December 8th for us to arrange your registration at our Pre-Agenda discounted rate.)
In the meantime we are continuing to work on the agenda with a packed, quality speaker line-up from some of the world's top media and tech companies, as well as expos with exhibitors offering their latest products and services. Some of the speakers already confirmed are from companies such as Aller Media, ALM Media, BBC, Bleacher Report, Brandwatch, Business Insider, Cheddar Inc., Condé Nast International, Duke University, Egmont, HBR, Hearst, HuffPost, IDG, Sanoma, Schibsted, The Economist, Thomas Cook Media & Partnerships, and so on with several more to come.
Please see www.innovators-summit.com for more details.
In short, we have the perfect event for your business with 600+ senior execs' to meet with, share insights and talk business – in one of Europe's most exciting cities!
Opening Keynotes
The Amazonification of media
Troy Young, Global President, Hearst Digital Media, USA
Transforming Hong Kong's newspaper of record to build a digital powerhouse – South China Morning Post
Gary Liu, CEO, South China Morning Post, Hong Kong
Top media innovation trends from around the world
Juan Señor and/or John Wilpers, Innovation Media Consulting, UK and USA