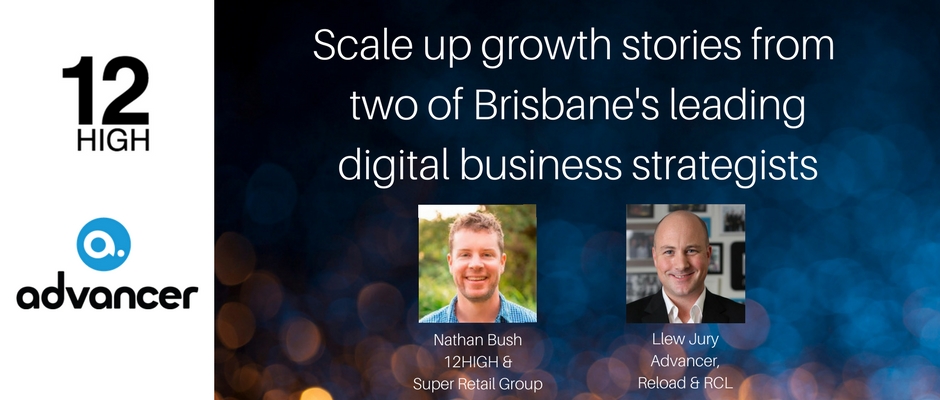 Attend this year's hottest business growth event to:
Learn new innovative approaches to significantly grow your business
Hear how to evolve your team culture through new mindsets and ways of working
Take away actionable strategies with insight from other organisational journeys
Dig below the surface with an open Q&A and sharing real world experiences with like minded professionals
About your presenters:
Nathan Bush - Founder of 12HIGH & former Group Digital Manager Super Retail Group. Nathan will share his experience working across a range of business problems and digital projects. He will share how a test and learn mentality can deliver real efficiencies, foster innovation, evolve culture and accelerate business growth. Nathan will share 12HIGH's methodology to help businesses test and learn at pace and at scale.

Llew Jury - Founder of Advancer, Entrepreneur in Residence at River City Labs & Chair of Reload Business Group. Llew will take you through how to rapidly grow and scale the right way through his recent work with start ups as part of the globally recognised RCL Accelerator. Llew will weave in stories from his 20 years as founder of Australia's leading digital firms and discuss how the modern business of today needs to be actioning scale up sprints and always thinking like a start up.
The MC for the evening is Peta Ellis - CEO of River City Labs.
This is a FREE event & please stay on for food/drinks after the event.
Event details:
On Tuesday 17 April 2018 at 5:30pm
LOCATION
River City Labs - The Stadium
TCB Building, The Precinct, 315 Brunswick St, Fortitude Valley , QLD 4000